Pulsed Electromagnetic Field Therapy
The human body is composed of cells, including skin, bones, and organs. The membranes of healthy cells have positive and negative magnetic charges needed to exchange ions carrying chemical elements the body and joints within the body require to function. Over time your cells deteriorate or get injured, and when that happens, they lose their magnetic charges - and with them, the ability to exchange ions.
Symptoms like inflammation, fatigue, and pain in joints are caused by damaged cells with low charges. PEMF technology targets the affected area, helping to restore cells' healthy electromagnetic charges. The technology can help people across the wellness spectrum stimulate their bodies and heal joint pain while enhancing overall wellness and energize all aspects of their lives.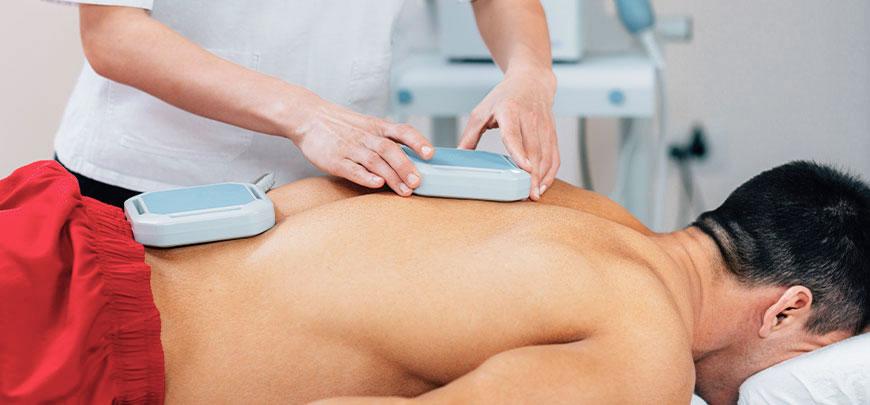 Benefits Of PEMF Therapy
PEMF may improve many functions and yields several benefits like:
Supporting the healing of damaged and inflamed tissues
Reducing pain, swelling, and inflammation
Increasing circulation and cellular levels of oxygen
Stimulating the body's natural healing processes
Improving sleep, depression, and physical energy
What Conditions May This Therapy Help
PEMF Therapy may help improve a wide range of conditions, including:
Arthritis
Degenerative Disc
Herniated Disc
Soft Tissue Injuries
Sciatica
How PEMF Therapy Works
PEMF technology produces electromagnetic waves at distinct frequencies to stimulate and encourage your body's natural recovery process. Pulses at low frequencies can pass through the skin and penetrate deep into joints. This process activates the cell's energy and encourages natural repair methods. Depending on the magnitude of the issue, PEMFs can address imbalances quickly and provide continuous change over time.
No matter what joint pain or tissue damage you are suffering, PEMF at Advanced Health & Wellness Center may help relieve your condition. PEMF is a relaxing, non-invasive, and drug-free therapy that can help you reach your body's full healing potential. Give us a call today at (330) 583-5530 to get started on your journey to better joint health.
Suffering with Joint Pain?
At Advanced Health & Wellness Center, our Advanced Joint Pain Relief Solutions are very effective at providing pain relief and improving joint functions. Call now to get started with your customized treatment plan!
What Our Patients Are Saying
Listen to our patients share their experiences and find out why we are the top-rated Advanced Joint Pain Relief Solutions clinic in the Wadsworth-area.
Get A Free Advanced Joint Pain Evaluation!
Come into Advanced Health & Wellness Center for a Free Advanced Joint Pain Evaluation. Qualifying Candidates will also receive a Free Evaluation and Treatment Plan Recommendation.